Web Page Hosting
ISOMEDIA Personal Hosting is the perfect solution for your blog, family, or club web site. ISOMEDIA Personal Hosting comes standard with all the features and tools you'll want to make your presence on the web the best it can be. You can manage all aspects of your site using the ISOMEDIA Control Panel, and you can use the QuickBuild plugins to quickly deploy new site content and features. ISOMEDIA hosting accounts are hosted on a shared Linux server and come with a free domain name (.com, .net, .org) so you don't need to worry about buying anything else. Personal Hosting comes with Unlimited Hard Disk Storage, Unlimited bandwidth transfer, Unlimited emails, Unlimited Databases (using MySQL), Unlimited use of ISOMEDIA's QuickBuild Plugins, and Unlimited use of ISOMEDIA's new SiteBuilder service; all manageable using ISOMEDIA's most comprehensive control panel solution ever using Parallels® Plesk® Panel service. ISOMEDIA Personal Hosting has everything you need all for just $24.99 a year!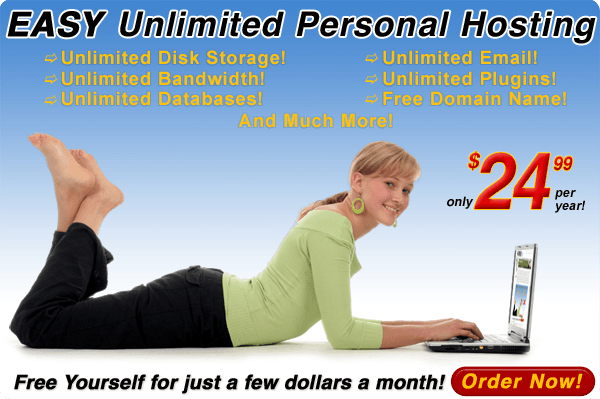 UNLIMITED MEANS UNLIMITED
ISOMEDIA understands that a personal web site should not be a huge expense or something that surprises you with "fine print" charges. ISOMEDIA does not "nickel-and-dime" you for every feature and convenience. ISOMEDIA does not cap your bandwidth, or hard drive use, nor does ISOMEDIA limit your use of available options like our QuickBuild Plugins. ISOMEDIA makes sure that you have everything you need to keep your family, or personal web site running and available to family and friends. ISOMEDIA Personal Hosting is available for customers who wish to host a website on the internet. This product is not for online data backup and storage. If your web site reaches the point where it has outgrown Personal Hosting requiring more options, or faster services, ISOMEDIA will be there to help you take the next steps and determine which ISOMEDIA solution is best for you.
WORRIED ABOUT HOW TO START?
Concerned that you won't know how to use all the tools and features you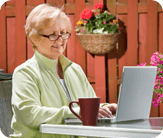 get with an ISOMEDIA Personal Hosting account? Don't worry; ISOMEDIA has got you covered. ISOMEDIA has assembled a comprehensive assortment of video tutorials for use by any of our customers in our support section. Do you need extra IP addresses or extra domain names? No problem, those are available too for a small additional charge. If you believe you may need help transferring your domain name, or transferring your web site to ISOMEDIA, we have you covered there as well. ISOMEDIA offers our Expert-Tech transfer service for both domains names and web sites to make sure you get everything associated with your web site transferred without issue.
ISOMEDIA Personal Hosting comes standard with many features and options other companies charge extra for and still don't give you all the unlimited options. ISOMEDIA Personal Hosting is the perfect choice for your web site needs but if you still have questions, or concerns, please chat with one of our online sales representatives linked at the left. And if you want to talk to someone in person feel free to contact the ISOMEDIA Sales department at 1-877-476-2660 for more information.