Partner Network
Do you know someone who needs our services? Are you part of an organization that compliments our variety of Internet solutions? ISOMEDIA forms strategic partnerships with people like you for the purpose of creating mutual business synergy and generating supplemental income on your behalf.
Choose the referral program that suites your needs. If you're interested in sending an occasional customer our way, and don't want to get involved with the paperwork, the Gold Partnership Plan could be your best option. If you're part of an organization with complimentary services, and expect to become very familiar with ISOMEDIA's services, the Platinum Partnership Plan may be a better option.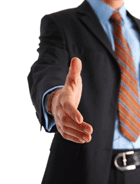 Gold Partnership Plan
Just send us your leads and ISOMEDIA will close the sale, install the service and provide customer service that makes you look good. Not a bad way to make some extra money.
Platinum Partnership Plan
Strengthen your client relationships by meeting their needs with ISOMEDIA's outstanding Business Internet Solutions. We create seamless, timely and professional customer experiences to ensure your reputation is protected.
For more information on Partner commissions and to sign-up please contact ISOMEDIA at (877) 476-2660 or contact ISOMEDIA Sales Department.