Business Voice
In addition to offering the best business-class phone system, ISOMEDIA can also supply the phone hardware and handsets that will make your TrueRing experience the best it can be. TrueRing handset and phone hardware options are offered at competitive rates that complement whatever TrueRing services you choose. All manufacturer warranties and support are included. Regularly available hardware includes the Linksys SPA942 and the Grandstream GXP-2010.
Modernize your office – TrueRing Hardware Options

Linksys SPA942
A robust IP Phone, the LinkSys SPA942 is the one to buy if you are looking for a phone that gives excellent voice quality and a nice look and feel. The SPA-942 leverages industry leading VoIP technology from Linksys to deliver an upgradeable

high quality IP Phone that is unparalleled in features, value, and support. Standard features on the SPA942 include four line appearances, Speakerphone, Caller ID, Call Hold, Conferencing, and more.
Integrated power over Ethernet (802.3af)
High-resolution 128 x 64 graphical display
Dual switched Ethernet ports
High-quality, full-duplex speakerphone and 2.5 mm headset port
Grandstream GXP-2010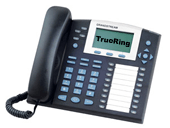 Designed as the cost-effective choice for the home or small business, the GXP-2010 offers 18 programmable speed-dial keys, and 11 dedicated keys to create one-button access to indispensible telephony features including hold, conference, mute, do-not-disturb, intercom, speaker, and voicemail.
Integrated power over Ethernet (802.3af)
Backlit 240x120 high resolution graphic LCD with multi-level gray scales
Dual switched Ethernet ports
Ask your Sales Representative for more information on phone hardware and available options.
---

Call 1-866-838-4389 and an ISOMEDIA Sales Representative will assist you in choosing the best TrueRing Service for your office.