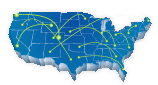 Internet Connectivity
ISOMEDIA is a leader in Internet connectivity for businesses and home users. We offer various access options and top rated support teams to provide you with the flexibility and convenience you deserve. Our robust and redundant network, combined with cutting-edge equipment, ensures fast and reliable connections for your business or home that are second-to-none. Discover the various options available to meet your specific Internet connectivity needs.
---
METRO OPTICAL ETHERNET
Speeds of 5 Mbps up to 1 Gbps are now available for your business with ISOMEDIA's Metro Optical Ethernet. Metro Optical Ethernet (MOE) provides scalable bandwidth solutions designed to meet your growing business needs. MOE provides local area network LAN-to-LAN connectivity between two or more locations within a metro area. MOE gives you the performance and connectivity you require, regardless of the size of your business. MOE offers your business a connection for Internet connectivity and intra-company networks that is convenient, scalable, and with much more bandwidth than other broadband solutions.
Features:
Dedicated bandwidth options from 5 Mbps to 1 Gbps
Point-to-point and point-to-multipoint configurations - great for
businesses with multiple locations
Circuit speeds are not restricted to dedicated SONET bandwidth increments
Multiple Ethernet virtual connections (EVCs) allow one port to support
multiple locations
Supports VLAN tagging for security and network optimization
And More
---
CORPORATE DEDICATED CIRCUITS
ISOMEDIA is a leading provider of Dedicated Circuits for businesses requiring connectivity that is more reliable, more secure, and faster than Cable and DSL. Corporate Dedicated Circuits consist of point-to-point connection to the Internet that carry approximately 40 times more data per second than a traditional residential modem. Our redundant connections provide uninterrupted service that consistently exceeds 99.99% network availability, offering your business the highest performing Internet access available.
Your business cannot afford to settle for anything less than the very best quality and protection when it comes to maintaining your critical Internet operations. Our network features equipment from suppliers like Cisco and Dell to ensure quality is not compromised. The equipment is located in a secure Network Operating Center (NOC) that is monitored 24 hours a day and accessible by authorized users only to ensure your business is always protected.
Get your business functioning at full capacity today with high-powered dedicated service available anywhere in the United States and most of Canada. ISOMEDIA offers T-1s, Bonded T-1s, DS3 Internet and above, Private Network Connections (PTP, T1, and greater), Metro Ethernet Solutions, and more.
Our range of services, network capacity, and customer-focused support combine to provide a high level of quality. We deliver outstanding value by providing high quality at a competitive price: This is the ISOMEDIA commitment.
---
BUSINESS BROADBAND
ISOMEDIA offers Digital Subscriber Line (DSL) service providing high-speed Internet access over existing telephone lines. DSL is an inexpensive alternative for businesses that need fast access to the Internet but don't want to invest in dedicated service. ISOMEDIA partners with every primary telephone provider nationwide, offering the highest availability possible. Check back often if you're located in an unserviceable area because plans and coverage frequently change.
Take advantage of the following DSL advantages:
High quality of service
A wide range of speeds and symmetric services (ADSL, SDSL, IDSL)
Full-service customer support by phone, fax or email
Fast, always on, secure, reliable, and affordable connection
Flat-rate billing, no "surprise" charges
Service Level Agreements (SLAs)
Spam and virus filtration system (SpamCatcher and VirusCatcher)
---
DIAL-UP
Do you only need connectivity when you are traveling or occasionally at home? Do you want to provide temporary service for a family member, or guest in your home? Dial-up service offers an alternative solution for those who need Internet access but aren't ready for DSL at this time. To review what dial-up service is available in your area use the service availability checker by clicking the order now link below.



---

Call 1-866-838-4389 and an ISOMEDIA Sales Representative will be happy to assist you in finding the right plan for your business.