Web Site Hosting
Small Business Hosting Home
ISOMEDIA Small Business Hosting is the perfect solution for any small business web site that needs a complete toolbox of web design features. You can manage all aspects of your site using the ISOMEDIA Control Panel, and you can use the QuickBuild plugins to quickly deploy new site content and features. ISOMEDIA Small Business hosting accounts are hosted on a shared Linux server and come with a Free Domain Name (.com, .net, .org), Unlimited Hard Disk Storage, Unlimited Bandwidth Transfer, Unlimited Emails, Unlimited Databases (using MySQL), Unlimited Sub-domains, Unlimited use of ISOMEDIA's QuickBuild Plugins, Unlimited use of ISOMEDIA's new SiteBuilder Service; all manageable using ISOMEDIA's most comprehensive control panel solution ever using Plesk® Panel service. ISOMEDIA Small Business Hosting has it all for just $8.95 a month!

MANAGEMENT CHALLENGES?
Concerned about a learning curve with all the power ISOMEDIA Small Business Hosting gives you? Don't worry; ISOMEDIA has got you covered. ISOMEDIA has assembled a comprehensive assortment of video tutorials for use by any of our customers in our support section. Do you need Windows®, static IPs, or extra domains? No problem: those are also available for a small incremental charge. If you need help transferring your domain or web site to ISOMEDIA, you can contact our Expert-Tech transfer service to make sure you get everything associated with your website transferred without issue.
UNLIMITED MEANS UNLIMITED!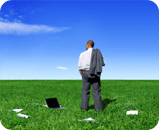 ISOMEDIA understands the Internet needs of your expanding business so we don't "nickel-and-dime" you for every feature and convenience. ISOMEDIA does not cap your bandwidth or hard drive use, nor does ISOMEDIA limit your use of available options like our QuickBuild Plugins. ISOMEDIA gives you what you need to get your small business site running and interacting with customers. Once your online presence reaches the point where it has outgrown Small Business Hosting and requires more options, or faster services, ISOMEDIA will be there to help you determine which ISOMEDIA solution is best for your company's next move.
Small Business Unlimited Hosting Pricing
Pay Monthly
$11.95/Month
PrePay Annually
$10.95/Month
PrePay For Two Years
$9.95/Month
PrePay for Three Years

$8.95/Month

- Best Value!
Optional per month add-ons: MS Windows +$3, Additional Static IP +$2, Additional Site & Domain for +$6.
Optional one time options: Expert-Tech Domain Transfer - $18, or Expert-Tech Web Site Transfer - $50.
Join over 10,000 satisfied customers and sign up for ISOMEDIA Hosting Services today!
---

Call 1-866-838-4389 and an ISOMEDIA Sales Representative will be happy to assist you in ordering your Small Business Hosting package.