Redmond Data Center Colocation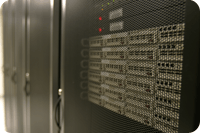 ISOMEDIA's Redmond Washington Colocation Data Center is located just adjacent to the Microsoft campuses and other technology centers in the region. With colocation close to you and your office, ISOMEDIA's Redmond Colocation Data Center offer all the advantages of enterprise infrastructure and service without the cost or travel time to larger downtown Seattle operations. Our Redmond Colocation Data Center lowers your business overhead costs and frees you to focus on growth related initiatives and other programs.
The Redmond Colocation Data Center is directly connected to our Seattle facilities through a redundant fiber ring around Lake Washington allowing customers to take advantage of direct carrier and online entity interconnection. Our Internet backbone features an aggregation of multiple of the top Tier–1 and Tier–2 networks. Should unforeseen circumstances cause one or more networks to fail, your online operations will remain intact, allowing your business to function normally.
ISOMEDIA's Redmond Colocation Data Center offers over 2,500 square feet of colocation space with private suite availability. ISOMEDIA's Redmond Colocation center, like all our data centers, is PCI compliant and SSAE 16 Type II certified and compliant with national standards for security and availability. ISOMEDIA's Redmond Colocation Data Center has been audited by third party inspectors to ensure it complies with rigorous standards for physical security with 24x7 video monitoring, electronically controlled locks, and customer access controls.
Features of Redmond Data Centers
Multiple Backbone Carriers For Redundant Connectivity
Fully Enclosed Locking 42U Height Cabinets
Custom Secured Suites
Multiple Points Of Computer Controlled Security Authentication
24/7/365 Video Surveillance
Uninterruptible Power Supply (UPS) Support
Generator, HVAC And Network Backup Support
And Much More — View Full Specifications
Redmond Washington Data Center
---

Call 1-866-838-4389 and an ISOMEDIA Sales Representative will be happy to assist you in determining which Dedicated Server package is right for your business.