SmartAlarm Service
Broadband Home Alarm Monitoring - We have the solution!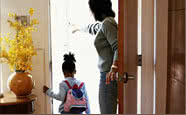 Security systems were not originally built to run over the Internet, which makes it especially difficult for Voice-over-IP users who rely on services such as Vonage or AT&T's CallVantage to utilize a reliable security system. The popularity of VoIP telephone services is a growing problem for the alarm industry causing most customers to continue to pay for an extra phone line just for their home, or business, alarm monitoring. With SmartAlarm, you can finally have your security system reliably monitored over your broadband Internet connection. With the addition of a SmartAlarm adapter, your system will be sending signals through the Internet in no time.
With our solution you do not need to have your alarm panel reprogrammed and your alarm monitoring company will not even know anything has changed. Two-way voice, DTMF, Pulse and FSK formats are all supported. The SmartAlarm adapter allows customers to enjoy the benefits and cost savings of Voice-over-IP service, while still allowing their security systems to accurately communicate with our monitoring centers. The main advantage is that you can disconnect your landline phone service yet keep your existing alarm monitoring service. Learn more »
SmartAlarm's Internet Based Approach Provides More Control
The SmartAlarm monitoring service and security systems are Internet based putting the home or business owner in control. Customers can install, manage, update and monitor their system from their computer. With SmartAlarm, customers are never locked out of their system. In fact, SmartAlarm allows customers to arm or disarm their systems remotely by phone or computer. SmartAlarm also provides traditional monitoring services for those who prefer to use a standard phone line.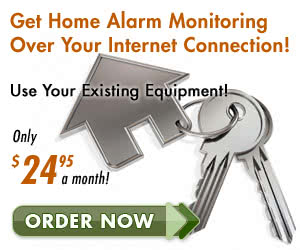 SmartAlarm Works on Existing Systems
With over 30 million security systems currently in use, it is easy for home and business owners to switch to NextAlarm's monitoring service. There's no need to change or replace existing security system equipment and NextAlarm.com offers risk-free plans and no term contracts or commitments.
SmartAlarm is Easy to Install
Customers can install SmartAlarm monitoring service themselves by visiting the SmartAlarm website and setting up an account. Easy-to-follow installation instructions are sent automatically via email. No technicians are required. Activating SmartAlarm is as easy as setting up DSL.
Learn more »
Features:
E-Notify: Security That Follows You
Using the SmartAlarm E-Notify technology, you can use our secure web server to set up your own alarm notifications via E-Mail or Pager. Have a family? Let our E-Notify service alert you when your children arrive home from school. Run a small business? Our E-Notify service can alert you when employees arrive in the morning, or leave in the evening. E-Notify can also alert you when your security system needs maintenance, or just to let you know that the system performed a routine test and is working fine.
You can even use our E-Notify service to alert you when certain events DON'T happen - such as a child not disarming the system by 3PM, or the system missing its weekly test signal. Lastly, you can use any computer with an Internet connection to look at a complete log of signals your system has sent, by logging on to our secure web site. Learn more »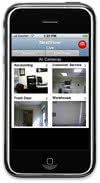 NextView Video Surveillance
NextView wireless security cameras are your complete, affordable, plug-and-play system for adding remote video camera surveillance to your home or small business. With the low priced NextView service, you can view your property at any time, from any computer with an Internet connection. You can even watch on your iPhone using the NextView app, now available from the iPhone App Store. Tie NextView into your new or existing alarm system, and we'll start recording whenever an alarm occurs. With our pre-alarm video technology, you can get the whole story by watching the seconds before an alarm event. Learn more »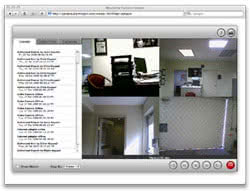 Flexible
You can manage all aspects of your SmartAlarm account online at our secure website. Safely and conveniently keep your account up to date, from your billing information to your list of security zones. Changing phone numbers? Adding equipment to your system? Just let us know online. There's no waiting, no hassle, and you'll get instant confirmation that we have received your updates. You can also use our website to tell us when you will be testing or working on your security system, so we'll know not to send the police. We support most major brands of home security systems, and in most cases can convert your existing system to be monitored by SmartAlarm.
With our commitment to customer service, support for a wide range of equipment, and our patent-pending E-Notify Internet-enabled alarm monitoring features, you simply won't find a better security value, anywhere. Sign up today!
SmartAlarm Monitoring Pricing
Service Plans

Setup

Monthly

What's Included
SmartAlarm Security System Monitoring

Free

$24.95

Use NextAlarm service to completely monitor your system, replacing your old alarm company; Includes hardware and connection to service.
SmartAlarm Online Security Monitoring

$99.00

$8.95

Monitor Your own system using your internet connectivity. For those people who want to monitor the system themselves, or pass it through to a 3rd party monitoring company.
SmartAlarm monitoring services are provided by SmartAlarms LLC.
SmartAlarm's NextView wireless security cameras are your complete, affordable, plug-and-play system for adding remote video camera surveillance to your home or small business. There are two camera options to choose from: a Pro which offers a number of options including pan and tilt support and a standard base model. Both are ideal add-ons to any SmartAlarm customer.
*All classes of Camera Monitoring include use of the web page to view the camera and use of the Apple iPhone application for viewing.